Q. Set up a Premier Pro Team Project and OneDrive [TEACHERS]
Answered By: Natalie Dimasi Last Updated: Dec 08, 2020 Views: 20
Answer
A Video has been linked at the bottom of this FAQ.
SETUP OF TEAMS
Teams is a service that is strongly associated with SharePoint. SharePoint is a cloud service that works similarly to OneDrive. SharePoint is optimised for multiple people, like a whole department to access a cloud storage area, behaving like a staff shared drive. Creating a Team will automatically create a SharePoint and a location to store data.
The initial set up of Teams is the same as what is currently required for teachers to do. They would create a Class teams and invite the students who are in a particular group. They will use the naming convention similar to this: <Unit code>.<year>.<group name>. Example: 11DES.20202.Group A

In the newly created Teams, select files. You can click "Sync" to automatically have the files appear in OneDrive. However, sometimes this does not always work. If it does not work, you can click on "Open in SharePoint".
This will open the SharePoint webpage. Click Sync.
A pop up will appear, select Allow.
The folder should be located in the same area as your OneDrive Folder. However instead of clicking on OneDrive – PLCScotch, you will need to Click PLCScotch. The file path should be similar to what is displayed below.
/ Users/<username>/PLCScotch/<Teams Name>
If you are unsure how to reach this location, in Finder click on "Go" in the top menu bar and select "Home" from the drop down menu.
Your PLCScotch folder should be displayed in a list of other folders. Double click on PLCScotch and then the folder that contains the group name.
You will then have to set up the files names.
SET UP OF FILES
In the Teams folder there is a specific folder set up needed for Premier to work. Two files, Proxies and Source need to be created.
The following is an example. Proxies is a required folder, that must be synced.
Source is only required for the initial upload to OneDrive and for the final render.
One Student in the group will have to have the Source folder selected to sync and upload the raw footage. Other members can un-sync this folder as they will not be using this folder to edit video. They will only need it during the rendering process.
Use of the Proxies folder and how to Sync folders will be covered later in this document.
ADOBE PREMIER PRO TEAM PROJECT SETUP
All students and teachers must be signed into their Scotch Creative Cloud account. The application must be up to date.
All notifications regarding the Team and their project will be sent via notifications in the Creative Cloud App.
You will need to Download both Premier Pro and Media Encoder.
In Premier Pro the teacher has to be the one to create the team. Ownership of the team is not a transferable permission. Students should never be the owner of the team.
If there is a change in staffing, the teacher will have to export the team project as an XML and the new teacher will have to import the project and claim ownership.
To create a Team Project, on the main menu of Premier select "New Team Project"
A new window will appear where you can name and give the project a description.
Under the collaborators box, select "Edit".
Start writing in the Team member's email addresses. So long as they have signed in with the Scotch email address, you can select their name from the drop-down menu. You will have to use firstname.lastname@student.scotch.wa.edu.au to invite a student or firstname.lastname@scotch.wa.edu.au if inviting a staff member.
Once you have added everyone, select "Invite".
Premier will display the invited members as "Invite Pending".
They will only receive a notification from Creative Cloud that they have been invited to a Team Project when you have finished the set-up of the Project.
Then select close.
When it returns to the New Team Project window. Select Scratch Disks. All the paths should point to OneDrive, this will back up any required files and library folders.
Once you have set the Scratch disks, you will need to select "Ingest Settings" and check the "enabled" box. The first the drop-down box that says, "copy proxies", you will have to change it to "create proxies".
For ease of set up, leave the Preset option as "H.264 Low Resolution Proxy". You will need to Change the Proxy destination from Creative Cloud, to the Proxies folder created in the Microsoft Teams folder.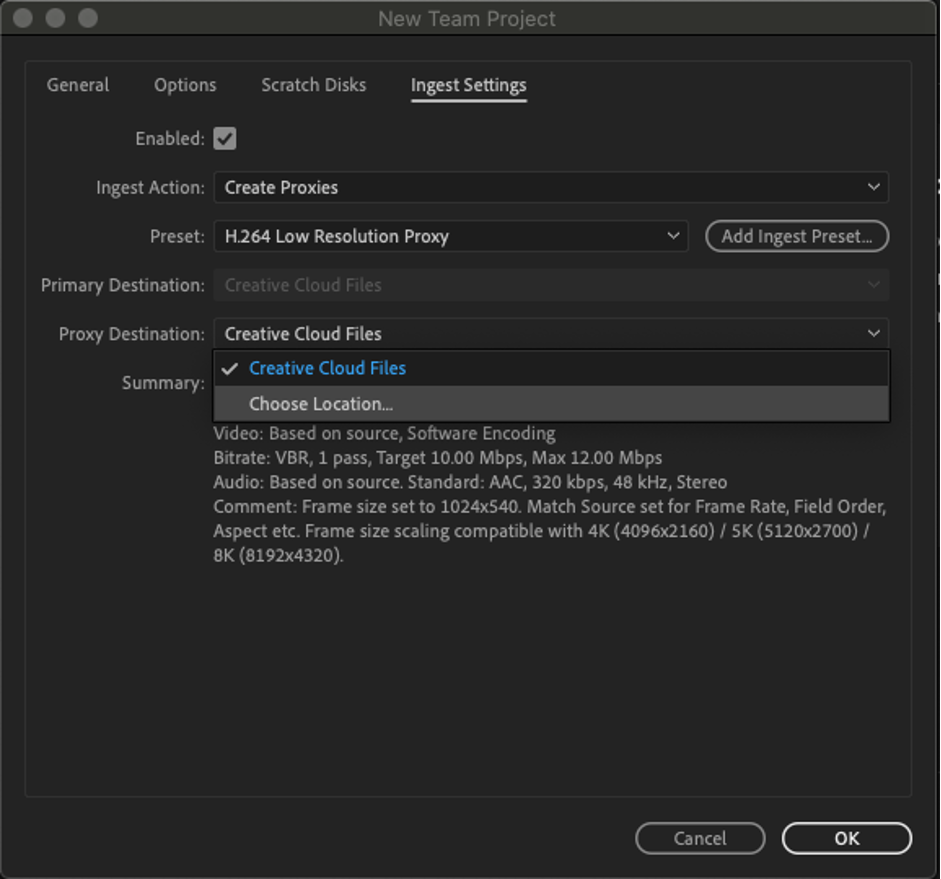 The location of the Proxies will be /Users/<username>/PLCScotch/<Teams name>/Proxies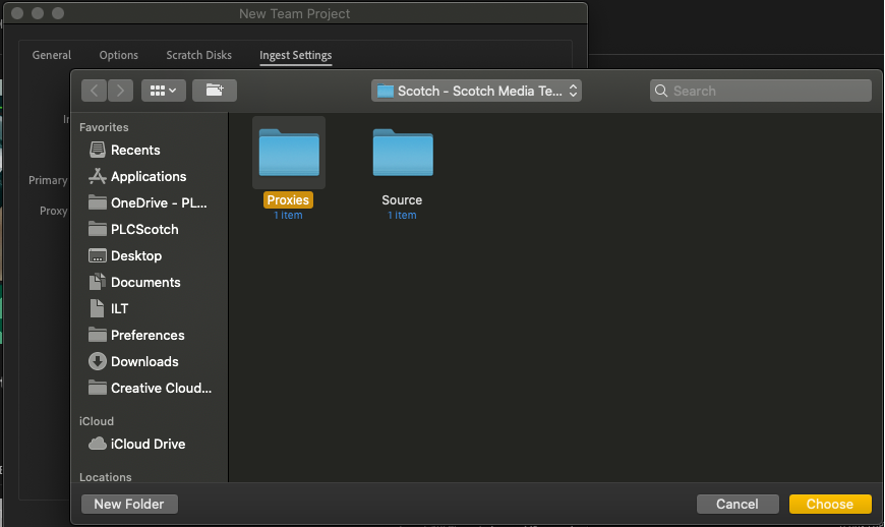 Select ok and the Project will be created.
Open Media Browser in Premier Pro and navigate to the Proxies Folder. If you right click on it, you can add it to favourites, so you do not need to continually navigate to it.
The Team Members in the meantime should see this notification come through on their Creative Cloud. Once they Click Accept, they will be able to open the project in Premier Pro.
Important things to note:
For the newer Retina MacBook Air (the laptop the Year 11s and Year 9s are using in 2021), it is estimated that it takes Media Encoder 20 mins to encode a 1GB file. The older 2017 model MacBook will take longer.
If files get deleted from the Teams Folder, it can be recovered so long as you email techcentre@scotch.wa.edu.au within 30 days of deleting the files. The Tech Centre will also know who has deleted the folders/files.
Can't find the answer you were looking for?
Can't find the answer you were looking for?
Use our live chat to get support during school hours or submit a ticket with your question and we'll get back to you with an answer as soon as we can.